Dos días para regresar a los 2000 y confirmar que ser emo no era una etapa.
Prepara el delineador, las botas y la ropa rosa y negra, porque se viene una gran celebración de la música, moda y cultura que dominó buena parte de los años 2000. Se trata del festival When We Were Young, el cual apenas a unas horas de haber develado su cartel rompió el internet por todas las sorpresas que juntará en dos días.
Bien, pues si creciste con MTV y los videos musicales de inicio de siglo, entonces seguro te llenará de nostalgia saber que el line-up de When We Were Young está encabezado nada más y nada menos que por My Chemical Romance y Paramore. Junto a estos actos figuran leyendas del metalcore, el happy punk y el rock alternativo como Bring Me The Horizon, Avril Lavigne, Jimmy Eat World, AFI, Pierce The Veil, Black Veil Brides, The Used, 3OH!3 y mucho talento más. Échale un ojo aquí: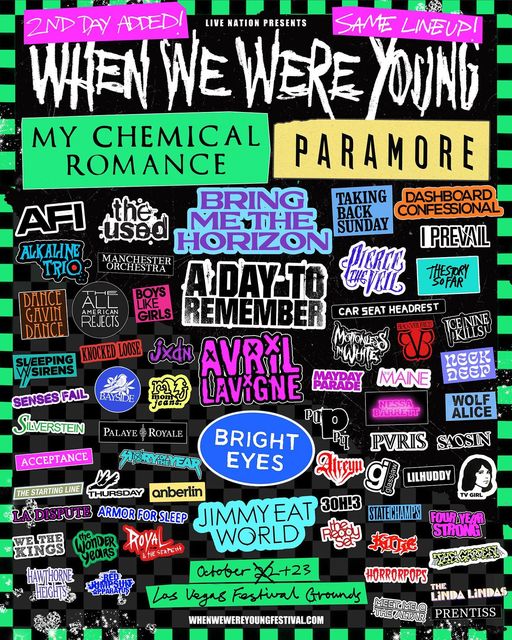 When We Were Young se realizará el próximo sábado 22 y domingo 23 de octubre en Las Vegas Festival Grounds de Nevada, Estados Unidos. El costo de los boletos asciende desde 225 dólares para el acceso general (4 mil 600 pesos mexicanos) hasta los 520 dólares para el VIP (10 mil 600 pesos mexicanos), y los boletos están agotados, pero puedes unirte a la lista de espera dando clic aquí y aplicar la ley de atracción para encontrar un lugar.