Octubre convertirá a Sacramento en la meca del hard sound.
La prosperidad de la costa Oeste junto a la pluriculturalidad de California han dado espacio a todo tipo de expresiones artísticas, desde el glamour en los sets hollywoodenses hasta la efervescente escena hard sound celebrada por los adeptos del día a día. Los organizadores del Aftershock son conscientes de ese gran cariño comunal por los riffs en overdrive y han decidido festejarle una vez más con un más que triunfal regreso, dejando caer una marejada de actos durante cuatro días consecutivos, prometiendo una explosión de sonidos intensos, ruido y headbang.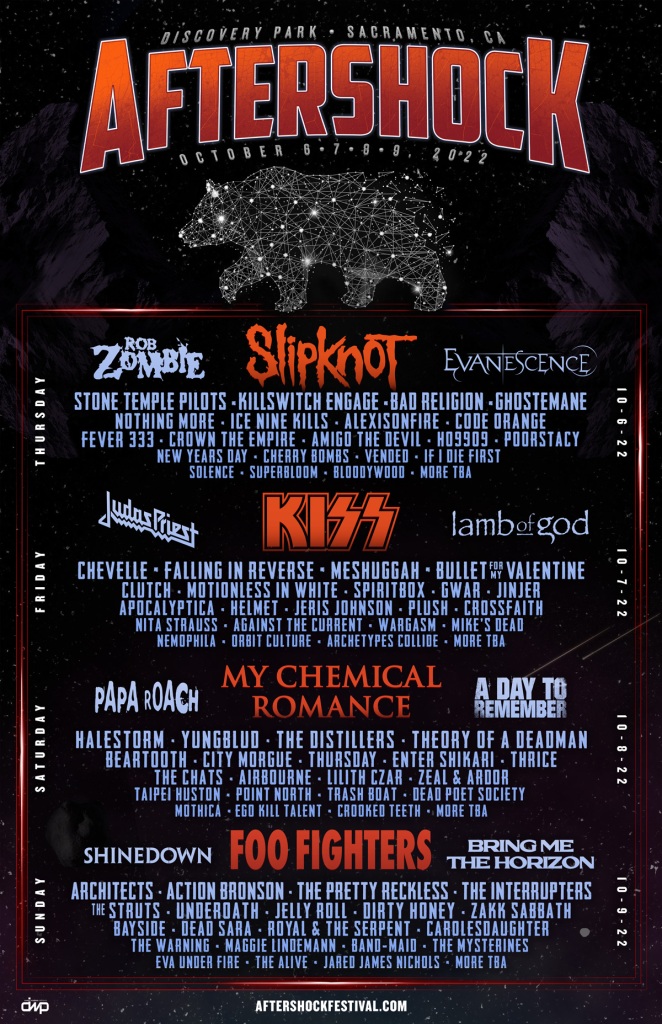 Entre los headliners de la edición 2022 podemos encontrar actos como Slipknot, KISS, My Chemical Romance, Foo Fighters, Rob Zombie, Evanescence, Judas Priest, Lamb of God, Papa Roach, A Day to Remember, Shinedown y Bring Me the Horizon. Completando el cartel con nombres como Stone Temple Pilots, Killswitch Engage, Bad Religion, Ghostemane, Chevelle, Falling In Reverse, Meshuggah, Bullet For My Valentine, Halestorm, Yungblud, The Distillers, The Pretty Reckless y The Interrupters por mencionar solo algunos.
El masivo tomará lugar al interior del Discovery Park de Sacramento, California, este seis, siete, ocho y nueve de octubre. Te dejamos la página oficial del festival donde podrás encontrar toda la información adicional.